Tianjin, China
---
Tianjin (/tjɛnˈdʒɪn/; Chinese: 天津) is a municipality and a coastal metropolis in Northern China on the shore of the Bohai Sea. Nowadays Tianjin is a dual-core city, with its main urban area (including the old city) located along the Hai River, which connects to the Yellow and Yangtze Rivers via the Grand Canal; and Binhai, an adjacent New Area urban core located east of the old city, on the coast of the Bohai Gulf. As of the end of 2010, around 285 Fortune 500 companies have set up base in Binhai. Since 2010, Tianjin's Yujiapu Financial District has become known as China's Manhattan and the city is considered one of the world's top 100 cities, including in the Global Financial Centres Index. Tianjin is ranked as a Beta (global second-tier) city by the Globalization and World Cities Research Network.
Tianjin Drum Tower (天津鼓楼; Tiānjīn Gǔlóu), Gulou East St, Nankai District (南开区鼓楼东街; Nánkāiqū Gǔlóudōngjiē). The tower was originally built in the Ming Dynasty, but was destroyed during the Cultural Revolution. It was rebuilt in 2001 and now actually houses a bell and not drums. The tower is home to varying exhibitions.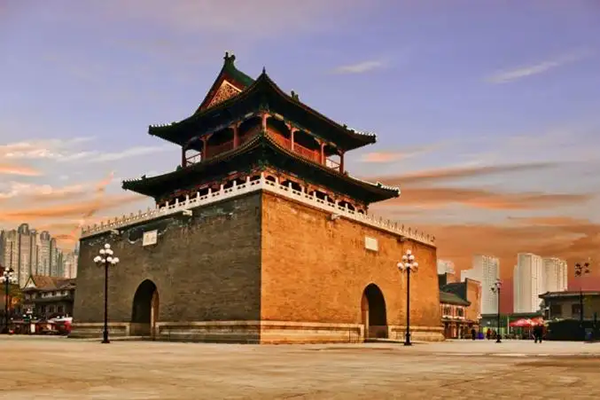 Tianjin Eye (天津眼 (tiānjīnyǎn) or Yongle Bridge ferris wheel), Yongle Bridge, Sanchahekou, Hebei District (河北区三岔河口永乐桥上). The world's second largest Ferris wheel and the only Ferris wheel built on a bridge in the world. The Tianjin Eye has a diameter of 110 m and 48 transparent gondolas with 360º views. Ideal for seeing the surrounding scenery at a glance. One round requires 28 minutes. On the highest point, it is possible to see the scenery within a radius of 40 km.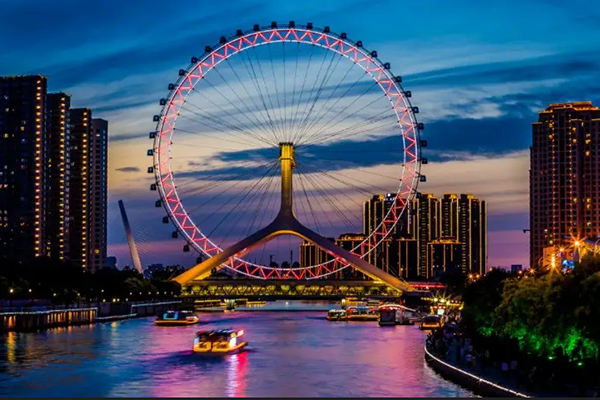 Ancient Cultural Street (古文化街; Gǔwénhuàjiē), Gongbei Ave-Gongnan Ave, Nankai District (南开区 宫北大街-宫南大街; Nánkāiqū Gōngběidàjiē-Gōngnándàjiē). Open throughout the day, extended opening hours on holidays or major events. Street not only lined with shops and cafes but also with interesting architecture, including lots of copies of Qing Dynasty buildings. Some of the most interesting buildings are Tianhou Palace (天后宫; Tiānhòugōng; Mazu temple), Yuhuang Cabinet (玉皇阁; Yùhuánggé; Ming Dynasty building) and Tongqingli (large residential building). Tin Hau (Matsu Temple) located in the centre of the whole street. There are nearly hundreds of stores along the street, among them Yangliuqing painting gallery and painted clay sculpture of Clay Figure Zhang are most famous, as well as calligraphy and painting brushes(文房四宝) of Four Treasures and Spring Church, cultural antiques of Sui Man Chai and cloisonne (景泰蓝), double-sided embroidery (双面绣), jade carvings (牙玉雕), art ceramics (艺术陶瓷), Chinese and Western musical instruments and gold and silver jewelry from other dozens of famous artists and craftmen.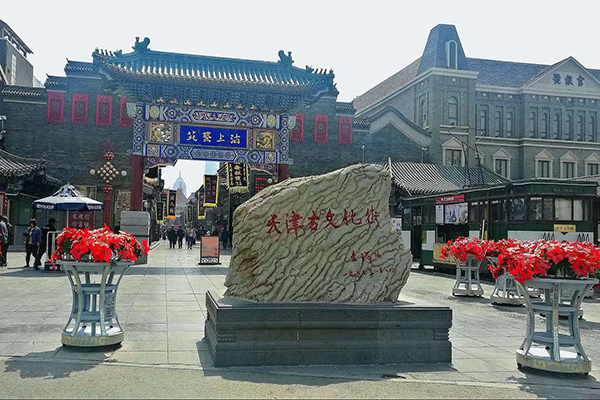 Baxianshan National Nature Reserve (八仙山国家级自然保护区, Eight Immortals Mountains National Nature Reserve), Xiaogang Village North, Xiaying Town, Jizhou District (蓟州区下营镇小港村北). The nature reserve takes it name from the Baxianshan Mountains, a mountain range consisting of 19 peaks. The highest peak is Juxian Peak (聚仙峰), which stands 1052 meters above sea level, making it the second highest land formation in Tianjin.